2019 Spring Training
The Enemy as Gift Within & Without: Cultivating Meta Position as Conflict Facilitators
Every Spring, the Oregon Mediation Association partners with CDRCs across the state to bring you our annual spring training in multiple locations.
About this year's training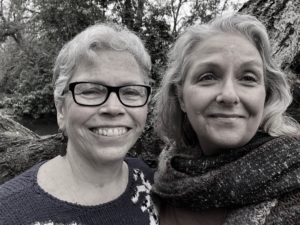 Join us for the 2019 Spring Training–The Enemy as Gift Within & Without: Cultivating Meta Position as Conflict Facilitators. Lisa and Naomi will invite you to enter the mythic and historical story of the Iroquois Peacemaker. This Myth carries potent information about the "enemies" who show up in life, and particularly illuminates the polarized atmosphere of today's world. In this day-long journey with the Peacemaker, we encounter the power of vision, the necessity of allies, explore obstacles, clarify true power and strength, and deepen our understanding of ourselves as conflict facilitators. What helps and hinders being fully present in our role as mediators? We relate the messages of this archetypal tale to mediation standards and practice, asking these questions: Can we engage every day in a story of integration of self, other and community? Can we bring kindness and mercy to ourselves and others in our navigation of conflict? Can we be willing to see our shadows and triggers in order to have a larger conversation?
About the Trainers
Lisa, a domestic relations mediator for 22 years, has designed and delivered training in a variety of settings. Lisa approaches mediation as a practice of transforming the enemies within and without for herself and her clients.  Naomi, a clinical social worker, has guided personal and collective growth and wholeness for more than thirty years.  Naomi has delivered training to staff of many social service agencies including teachers, juvenile court staff, women's crisis centers, alcohol and drug treatment centers, and university faculty and students in a variety of areas. Since 1991 she has produced and created Archetypal Theater performances for the Salem Community. Lisa and Naomi look forward to bringing their humor, wisdom, and compassionate eldership to this event.
Dates and Locations
Hood River, May 3, 6Rivers Dispute Resolution Center — http://6rivers.org
Eugene, May 6, Center for Dialogue and Resolution- http://lanecdr.org
La Grande, May 13– Eastern Oregon Mediation Center – http://eomediation.org
Beaverton, May 17. Oregon Mediation Association, hosted by the Beaverton Center for Mediation and Dialogue
Registration, Scholarships, and Continuing Education
OMA will be applying for continuing education credits with the HRCI, NASW, and Oregon Bar.
Information on registration, fees, and scholarships will be available no later than April 1.